Email this page to friends
Backup and High Availability
Datasheet

StarWind's Shared Storage for VMware vSPhere, VMware ESX and ESXi



Virtualization is one of the top priorities for IT departments everywhere, no matter whether they are SMBs or multinational corporations. It's easy to understand why. Server virtualization using solutions such as VMware ESX and VMware ESXi saves money, fully utilizes the IT resources and helps enhance availability and performance.

However, Server Virtualization is only half the solution. You also need Storage Virtualization to maximize the payoff. That's where StarWind Server iSCSI SAN really delivers. It's the affordable and scalable storage virtualization platform for VMware that is easy to deploy and starts generating ROI as soon as you install it.

StarWind's IP SAN solution converts Microsoft Windows Server 2003 and Server 2008 into a powerful SAN for your VMware ESX and ESXi. You can install it on your existing servers and convert them into a high-performance SAN in under 30 minutes. Our solution supports the widely used iSCSI protocol and works with any industry-standard server. With StarWind, VMware administrators get a scalable, highly cost-effective and easy-to-use iSCSI SAN that fully protects your VMware environment in the event of a catastrophic failure.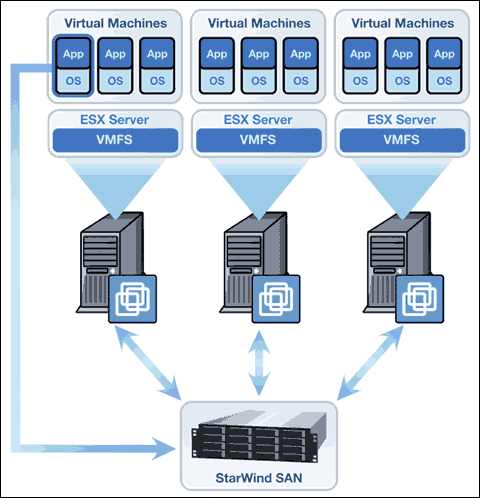 StarWind can help your organization become more efficient and competitive as well as help slash operating costs. StarWind will enhance your VMware ESX and VMware ESXi environments:
Take advantage of VMotion, VMware HA, DRS, and VCB features
 Protect yourself from single point of failure with a SAN
 Speed data migrations without sacrificing uptime
 Enhance performance with load balancing
 Recover data fast with the versatile CDP & Snapshots 
 Protect your storage with the powerful Mirroring & Replication
 Get an extra layer of protection and increase data availability
 Improve hardware utilization and leverage existing IT infrastructure
 Combine the power of server and storage virtualization
 Near zero downtime with more redundancy
 Simplify storage management for VMware
 Even run an iSCSI SAN inside of the VM itself
Finally, you can use VMware ESX and VMware ESXi to build a true server cluster with the StarWind IP SAN shared storage. And you don't even need to invest in new hardware - repurpose your existing servers and storage without any additional purchases. Importantly, take advantage of VMware advanced features like VMotion, VMware HA, DRS and VCB features that all require the use of shared storage that StarWind IP SAN delivers.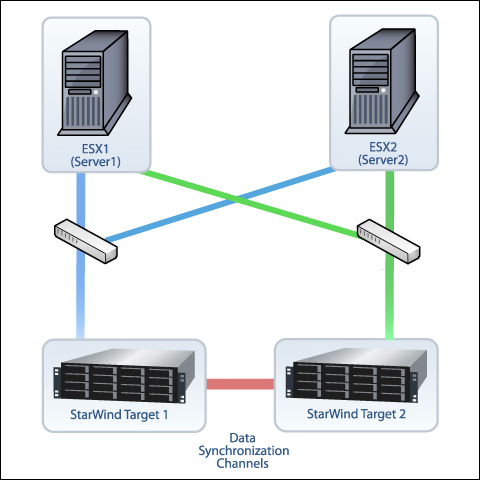 For more information about StarWind,
please contact our Sales Representative at 2556 2162, or email at
sales@ppn.com.hk
.
Copyright © 2021 Pacific Professional Network. All rights reserved.