Email this page to friends
Backup and High Availability

Smart Virtualization Management Solutions for Superior Performance and ROI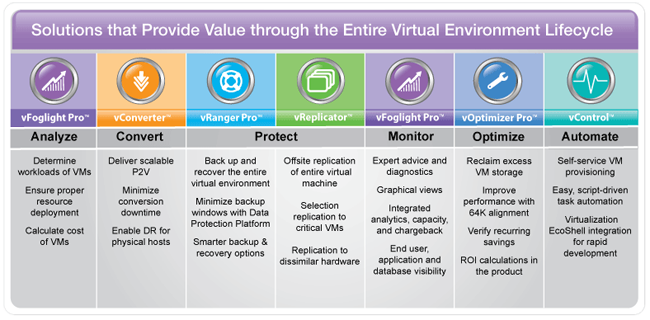 Vizioncore Inc. offers a full range of strategic software solutions that allow you to oversee and enhance the performance of virtualized environments. Vizioncore products are simple to use and cost effective, yet offer sophisticated functionality to address the challenges of P2V/V2V conversions, disaster recovery, storage optimization, process automation and provisioning, and performance monitoring and chargeback.

When you purchase Vizioncore products, you enter into a partnership with a trusted provider of smart, sophisticated solutions that are robust and scalable enough for the enterprise but also easy to learn, easy to use and very affordable. We help you take management to a whole new level and our customer value can be defined in three key areas in that we:

Vizioncore products allow you to automate manual processes and reduce the time and cost of administrative tasks. Because Vizioncore products are easy to use, you will see the results immediately for faster ROI and improved productivity. Fire up your virtualization implementation with the power of Vizioncore's solutions and experience the difference in your data center.


For more information about Vizioncore,
please contact our Sales Representative at 2556 2162, or email at
sales@ppn.com.hk
.
Copyright © 2021 Pacific Professional Network. All rights reserved.