Email this page to friends
Backup & Disaster Recovery Solution
Replay for Hyper-V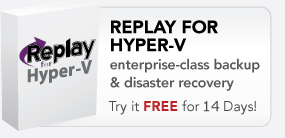 Replay for Hyper-V is an enterprise-class backup and disaster recovery solution designed for Windows Server 2008 Hyper-V environments. It supports both host and guest level backup methodologies while delivering accelerated application backups, fast local recoveries and disaster recovery, all in one solution. With Replay for Hyper-V, the entire hosts, select volumes and individual files within virtual machines can be restored. Replay's compressed and de-duplicated point-in-time images are mountable as drive letters or mount points delivering storage efficient backups and fast recoveries. AppAssure also offers a free Explorer shell extension for Windows 2008 R2 and Windows 7 that mounts VHDs as drive letters or mount points so you can access the files within VHDs in seconds.


Features
Backup Elimination

Live Host based and application-aware agent continuously images the Hyper-V host.
No need for agents on individual guests.
Unique compression and de-duplication reduces disk storage requirements by 80%
Overhead less than 1-2%  on virtual host
Integrated with Hyper-V VSS components

Fast Local Recoveries

Point and click file recoveries from within virtual machines
Recover entire virtual machines in minutes.
Instant volume recoveries
Mount any image as a Windows share for migrations.
Bare-metal recoveries of Hyper-V Host to similar or dissimilar hardware

Disaster Recovery

Off-site backups with Built-in replication, ideal for cloud based backup strategies.
Restore Hyper-V host locally or at disaster site.
Safeguard virtual host by creating a portable Rescue Image directly to removable storage devices.

Centralized Management and Control

Easy to use enterprise console
Flexible retention policies
Exception alerting to Windows event log or to e-mail
Supports all Windows virtual workloads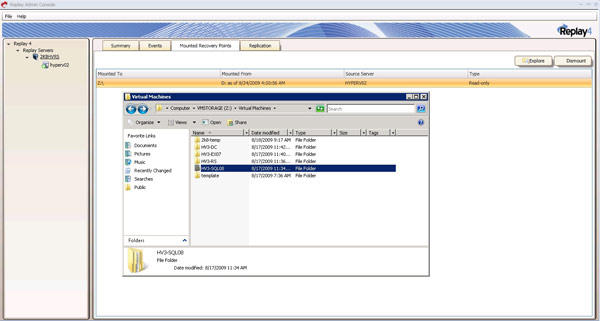 For more information about AppAssure,
please contact our Sales Representative at 2556 2162, or email at
sales@ppn.com.hk
.
Copyright © 2021 Pacific Professional Network. All rights reserved.