Email this page to friends
Backup and High Availability
Drobo File Sharing Storage for Business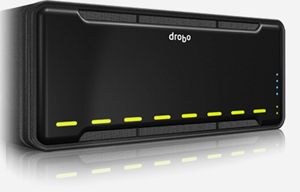 Drobo delivers "big storage in a small box" to create the best storage experience ever for small and medium sized businesses and departments at larger enterprises. Built on proven and award-winning BeyondRAID technology, the Drobo model B800fs allows the sharing of files with all computers on the network and keep that vital business data protected with offsite replication.

Drobo model B800fs connects seamlessly to your existing Ethernet network and supports both Windows and Mac computers.Drobo Apps give you the freedom to customize your Drobo to meet your own unique set of requirements.
BeyondRAID Technology
A Drobo model B800fs can hold up to 16 TB of raw storage and beyond. To add capacity, simply insert a new hard drive or replace your smallest drive with a larger one, even when all drive bays are full. Unlike traditional RAID systems, the BeyondRAID technology in Drobo enables you to leverage different drive capacities, allowing for continuous expansion as larger drives become available. With Drobo, expansion is automatic, instantaneous, and access to data is always maintained.

Drobo can protect from single or dual drive failures and has a virtual hot spare capability - ensuring all drives are used as all times.

Learn more about BeyondRAID and other Drobo technologies.
Share Files Directly from Drobo
Drobo model B800fs connects directly to your Ethernet network to make sharing your data easy. Just plug it into any switch and you are ready to go.

The Drobo model B800fs has two Gigabit Ethernet ports that can be configured to fail over if one link fails, or can be set up to connect to two separate networks - one for your data and the other for Drobo Sync replication, for example.

Connect to Drobo, and access shared data, using any Windows, Mac, or UNIX/Linux1 computer. Drobo natively supports CIFS/SMB and AFP network protocols and NFS can be added by installing a Drobo App.

Offsite Data Protection
The Drobo model B800fs includes an intelligent and easy-to-use data replication tool that can seamlessly backup your valuable data from one Drobo to another somewhere on your network or across the Internet to a remote site. Having your data protected offsite guards you from a major disaster, resulting in peace of mind.

Learn more about Drobo Sync.

Figure 1 shows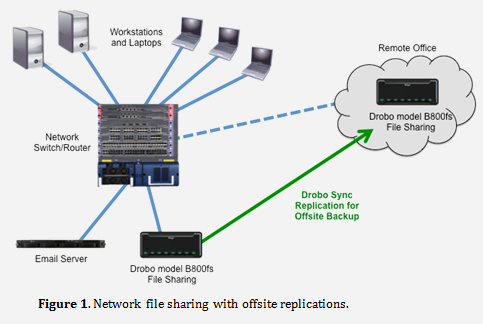 Drobo model B800fs attached to the network, sharing files with workstations and laptops. Drobo Sync is replicating all of the data stored on the Drobo to one at a remote office for offsite backup.
Seamless Integration with Apple Time Machine
With support for any backup application that can store data on a network share, file sharingDrobos deliver the most seamless support for Apple Time Machine of any network storage system on the market today. Using Time Machine with Drobo is as easy as clicking one box in the Drobo Dashboard software, with no need for confusing and complex configuration.

Drobo Care Service and Support Program
The Drobo Care service and support program extends your peace of mind beyond the standard warranty terms for 3 years and beyond. With DroboCare, we're always here to answer your call and if something goes wrong, we'll send you a replacement Drobo right away.
Learn more about Drobo Care.

1NFS functionality and management for Linux is available on the Drobo Apps page.


For more information about Drobo for Business,
please contact our Sales Representative at 2556 2162, or email at sales@ppn.com.hk.
Copyright © 2021 Pacific Professional Network. All rights reserved.