Email this page to friends
Backup and High Availability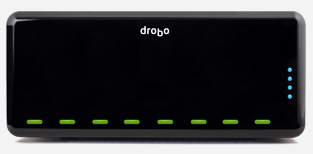 DroboPro™ is the first business class direct-attached storage array that manages itself. Engineered to be both simple and scalable, the revolutionary BeyondRAID™ technology incorporated into DroboPro frees businesses of making the difficult and confining choices commonly associated with storage management. Why trade simplicity for safety, or stability for expandability? DroboPro delivers both enterprise-level data safety and unprecedented expandability, featuring single and dual disk redundancy combined with instant capacity expansion. Once you experience DroboPro, you just might forget the differences between all eleven traditional RAID levels. If you do, don't panic. You're experiencing the peace of mind that comes with every Drobo® product.
Up to 8 Disks of Instant Expansion to 16TB and Beyond

Grow your storage in line with your data capacity needs with minimal effort. To add capacity, simply insert a new hard disk or replace your smallest disk with a larger one, even when all eight disk bays are full. Unlike traditional RAID systems, the BeyondRAID technology found in DroboPro enables you to mix n' match disk brands, capacities and speeds. This allows continuous expansion as disk capacities grow. With DroboPro expansion is automatic, instantaneous and access to data is always maintained.


No Headache Dual Disk Redundancy
Enable the Dual Disk Redundancy option to protect against the simultaneous failure of up to two hard disks. It's all done with a single click, without ever losing access to your data. Running out of space? You can even switch back to single disk redundancy with a click. For instance, unlike moving between RAID 5 and RAID 6, there's no need to reformat or migrate data off of the array, potentially saving you hours or days.

Triple Interface Featuring iSCSI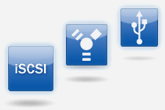 Attach DroboPro directly to the server or workstation that requires storage or to a shared server or workstation on your network that can provide access to multiple clients. Interface options include:
iSCSI (utilizes Gigabit Ethernet)
FireWire 800
Hi-Speed USB 2.0
Unfamiliar with iSCSI? It's a high performance protocol that has become extremely popular with businesses, but it can often be complex to manage. DroboPro changes that by introducing zero click iSCSI connection establishment for both Windows and OS X.
The Virtues of Smart Volumes™

Create new volumes in seconds and manage up to 16 x 16TB volumes over time with ease. The innovative and timesaving Smart Volume management technology integrated into DroboPro allows volumes to pull storage from the common pool of disks rather than a specific physical disk allocation. The labor of resizing and migrating volumes is replaced with the simplicity of intelligent engineering.

Rack Mount Ready, Desktop Quiet



DroboPro is equally at home in a rack mount environment as it is on your desktop. Dual smart fans automatically manage their speeds to optimize both cooling and operating noise. (DroboPro Rack Mount sold separately.)

DroboPro Capacity Calculator

For more information about DroboPro,
please contact our Sales Representative at 2556 2162, or email at sales@ppn.com.hk.
Copyright © 2021 Pacific Professional Network. All rights reserved.