Email this page to friends
Backup and High Availability
Datasheet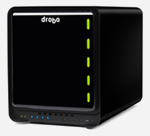 Say hello to the world's most advanced USB 3.0 array. In addition to blazing fast transfer speeds for creative professionals and small businesses, the all-new Drobo S features USB 3.0 technology that delivers the most expandable, future-proof solution available today. Drobo S offers an unbeatable combination of automated protection, instant and perpetual expansion, and high-performance making it ideal for all of your primary and backup storage needs.
Built on award-winning BeyondRAIDTM technology with single- or dual-drive redundancy, Drobo S protects your data without any user interaction, even in the event of multiple drive failures. It can hold up to five hot-swappable drives, for on-the-fly drive capacity expansion with zero downtime.

Your Personal Speed Demon: USB 3.0, eSATA, FireWire 800

Have a need for speed? With the new USB 3.0 interface on the Drobo S, data transfer is up to 50% faster than FireWire 800. USB 3.0 offers backward compatibility with all existing USB 2.0 systems, and the Drobo S features a triple interface with eSATA and FireWire 800 to ensure you'll have a high-performance connection for virtually any system.


World's Most Expandable USB 3.0 Array
The new Drobo S is the most expandable USB 3.0 product available today, with "industry first" support for multiple storage volumes that provide capacity up to 32TB and beyond. Only BeyondRAID allows you to instantly expand your capacity by simply adding a drive or replacing the smallest drive with a larger one, even when all five drive bays are full. The unique ability to mix and match drive capacities, brands, and speeds ensures you will be able to take advantage of larger drives as they become available.
Protection from Two Drive Failures

Enable the dual-drive redundancy option to protect your data from failure of up to two hard drives. It's all done with a single click, and without ever losing access to your data. Running out of space? Switch back to single-drive redundancy at any time. Unlike moving between traditional RAID 5 and RAID 6, there's no need to reformat or migrate data off of Drobo S, potentially saving you hours or days of downtime.

Self-Healing Technology

With the self-healing technology now incorporated into Drobo S, your data is safer than ever. Even when sitting idle, Drobo S will continually examine the blocks and sectors on every drive, flagging questionable areas. This preemptive "scrubbing" helps ensure your data is being written only to the healthy areas of your drives, and that your data is always safe. Even if a drive fails, Drobo S keeps your data in the safest state possible, utilizing the available space on the remaining healthy drives.

Windows, Mac, Linux


Drobo S connects to Windows, Mac, and Linux2 systems and supports NTFS, HFS+, EXT3, and FAT32 file formats. Everyone can take advantage of simple, powerful, complete BeyondRAID data protection.

* Linux support currently in Beta.


For more information about Drobo S,
please contact our Sales Representative at 2556 2162, or email at sales@ppn.com.hk.
Copyright © 2021 Pacific Professional Network. All rights reserved.