Email this page to friends
Backup and High Availability
Datasheet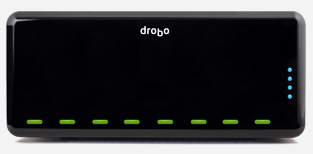 Building on the success the Drobo FS, Data Robotics delivers the big brother: DroboPro FS. With more capacity, speed, connectivity options, and automated data backup, the DroboPro FS continues to deliver the best file sharing experience ever. From the moment you plug it in and see it instantly appear on your desktop, you'll know there's nothing like it. The DroboPro FS is perfect for any small office, home office, or a media rich connected home needing a simple, safe device for sharing and backing up files over the network .

Like all Drobo storage products, DroboPro FS provides redundant data protection without the complexities of RAID. Just plug in your DroboPro FS and data protection is all set up with no configuration required. We call this BeyondRAID™ technology. You'll call it peace of mind. Also with the new Drobo Sync¹capabilities you can seamlessly backup your valuable data from one DroboPro FS to another somewhere on your network or your VPN. Peace of mind magnified.

Share your data on a Gigabit Ethernet Network
DroboPro FS connects directly to a Gigabit Ethernet network to make sharing your data easy. Just plug it into any switch or wireless router and you are ready to go.

Simple Data Backup
Use the integrated Drobo Sync feature to quickly and easily backup your data to another DroboPro FS on your network or via your VPN. Simple to configure and schedule, Drobo Sync provides the power to keep your important data safe and secure. Learn more about Drobo Sync.

Network Redundancy Built In and Automatic
The DroboPro FS has two Gigabit Ethernet ports that can be configured to fail over if one link fails. You can also easily setup the ports to provide two separate network links to your storage: one for your data and the other for Drobo Sync data transfers, for example.
Supports the Computer of Your Choice

Connect to your DroboPro FS using any Windows, Mac, or UNIX/Linux computer ². Whatever system you have, it's likely you'll be able to connect to it over your network quickly and easily.

Easy Expansion to 16TB and Beyond



DroboPro FS holds up to eight drives allowing you to effortlessly grow your storage to meet your data capacity needs. To add more space, simply insert a new hard drive or replace your smallest drive with a larger one, even when all drive bays are full.

And unlike traditional RAID systems, the BeyondRAID technology in DroboPro FS enables you to mix and match drive capacities, brands and speeds. This unprecedented flexibility allows for continuous expansion as available hard drive capacities increase.

With DroboPro FS, expansion is automatic, instantaneous and access to data is always maintained.

Protection from up to Two Drive Failures

Enable the dual-drive redundancy option to protect your data from failure of up to two hard drives. It's all done with a single-click and you never lose access to your data. Running out of space? No problem. Switch back to single-drive redundancy at any time. Unlike moving between traditional RAID levels, there's no need to reformat or migrate data off of the DroboPro FS — potentially saving you hours or days of downtime.

Self-Healing Technology

With the self-healing "virtual hot spare" technology incorporated into DroboPro FS, your data is safer than ever. If a drive fails, DroboPro FS keeps your data in the safest state possible by automatically moving your data to the available space on the remaining healthy drives returning to the highest level of drive failure protection possible.

Seamless Integration with Apple Time Machine

The DroboPro FS enables network backup for Mac users at home, home office or small offices. The DroboPro FS delivers the most seamless support for Apple Time Machine of any network storage system on the market today. Using Time Machine with DroboPro FS is as easy as clicking one box in the Drobo Dashboard software, with no need for confusing, complex command line work.

A Drobo as Unique as you Are

Select from a wide selection of free DroboApps designed to give you the freedom to configure and customize your DroboPro FS to meet your own unique set of requirements. Our growing library of DroboApps² adds amazing functionality like media, web, NFS, and more!

¹ UNIX/Linux clients can connect via CIFS/SMB. NFS and Linux Dashboard are available via DroboApps
². Please visit www.drobo.com/droboapps for more information.
² DroboApps are community created and community supported applications

For more information about DroboPro FS,
please contact our Sales Representative at 2556 2162, or email at sales@ppn.com.hk.
Copyright © 2021 Pacific Professional Network. All rights reserved.