Email this page to friends
Content Archiving - Email, File and SharePoint Archiving Solution

Enterprise Email Archiving Compliance Module - EEA Compliance
Highly Secure, Reliable, Massively Scalable Archiving System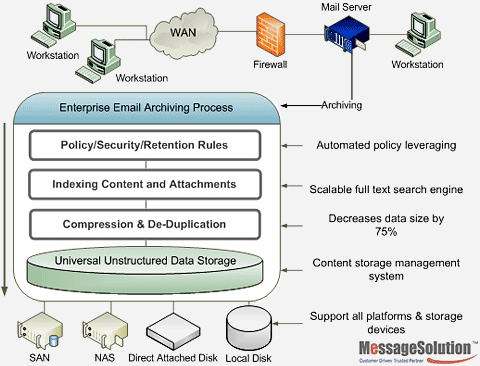 MessageSolution's EEA Compliance
is the industry's leading compliance archiving solution. This powerful solution helps enterprises meet the security and audit standards for corporations and government agencies.


In the United States alone, Enterprise Strategy Group's research statistics show that there are more than 10,000 laws and regulations drafted by the US federal and state legislators that address "records," the information that takes the form of email. The regulated industries include financial, health care, insurance, banking, energy, pharmaceutical, etc. Worldwide, the requirements for records retention are regulated in every country, just to name a few, Universal Market Integrity Rules for Canadian Marketplaces in Canada; the Data Protection and Freedom of Information Act in the United Kingdom; and Conseil des Marches Financiers' Decision 99-05 in France.
Key Features
Real-time capture of extremely large volumes of email (with attachments) and instant messages
Preservation of documents on tamper-proof WORM (Write Once, Read Many) storage systems, ensuring the highest level of document authenticity.
High-performance, web-based secured search, monitor, maintain, exchange, and retrieval provides instant access to the email data and records.
Sophisticated document retention and disposition policies
Open standard, next generation architecture, well-designed to cross-platform support Windows and Linux, and compatible with all email servers, including MSFT Exchange Server, Lotus Notes Domino, Postfix, Bloomberg, Sendmail, Scalix, etc...

Supports various versions of Linux platform including Redhat and SuSE, as the first Linux version of email archiving solution in the market.
Key Rulings and Regulations on Email and Instant Message. Click on the links below for details:

For more information about MessageSolution,
please contact our Sales Representative at 2556 2162, or email at
sales@ppn.com.hk
.
Copyright © 2021 Pacific Professional Network. All rights reserved.