Email this page to friends
Content Archiving - Email, File and SharePoint Archiving Solution

Enterprise Email Archive StorageManager
MessageSolution EEA StorageManager transparently automates and centralizes
customers' electronic data storage and email archive management. EEA StorageManager collects all outbound, inbound, and internal email and attachment data, then indexes and compresses the data before sending it to the email archive—a process that optimizes email server performance and alleviates server administration workload. Supporting a broad range of file and attachment formats, EEA StorageManager ensures that essential corporate intelligence is efficiently stored and available for immediate access.
Through a high-ratio compression process, stubbing, and single instance archiving,
EEA StorageManager tremendously reduces data storage costs by eliminating the traditional and expensive methodology of storing digital data on backup tapes or PST files, which decentralize storage management and are easily corrupted. With EEA StorageManager, emails, files, attachments and even local archive files are centralized and stored in the easily manageable email archive.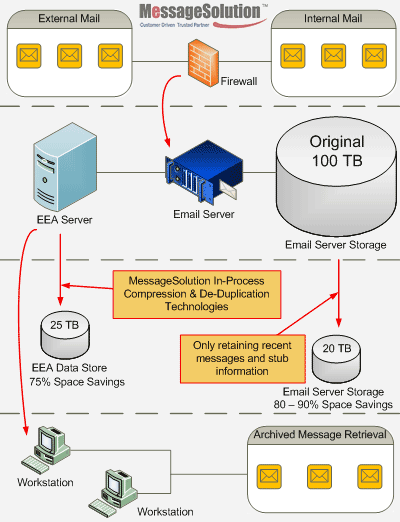 EEA StorageManager facilitates a hierarchical storage management strategy.
The administrator can easily create internal policies to automatically manage groups of mailboxes or even each individual employee's mailbox, clearly defining the specific qualities of emails to be archived, the retention period, and other parameters.
Key Features
Comprehensive retention and disposition policies ensure your enterprise meets compliance requirements
Reduces mailbox storage requirements by 75%
Highly flexible storage functions cater to your IT infrastructure
PST file administration: discover, migrate and centrally manage PST/NSF files
MessageSolution's relationship with our storage hardware partners allows us to quickly supply hardware storage devices if you need them, at your own brand preferences
Storage Calculator
Download >>



For more information about MessageSolution,
please contact our Sales Representative at 2556 2162, or email at
sales@ppn.com.hk
.
Copyright © 2021 Pacific Professional Network. All rights reserved.