Email this page to friends
Content Archiving - Email, File and SharePoint Archiving Solution

Enterprise Email Archive E-Discovery
Traditional electronic discovery can be expensive and time-consuming, especially when the requested information is not stored centrally. In fact, traditional discovery methods often fall far short of court deadlines, resulting in anything from embarrassment to fines for organizations unable to produce in a timely manner. In 2006, the United States Supreme Court updated the Federal Rules for Civil Procedure (FRCP) regarding discovery, effective December 1, 2007. As a result, many organizations are reconsidering their electronic information management policies. To learn more about the FRCP, please visit our Resources page.
MessageSolution EEA E-Discovery
intelligently automates the capture, indexing, storage, search and retrieval of email, file, and attachment metadata onto a centralized platform. EEA E-Discovery performs electronic discovery tasks at a fraction of the cost and time of traditional electronic discovery modules. Content and metadata information are indexed as documents enter the archive, allowing the search engine to search through millions of messages to retrieve evidence within seconds.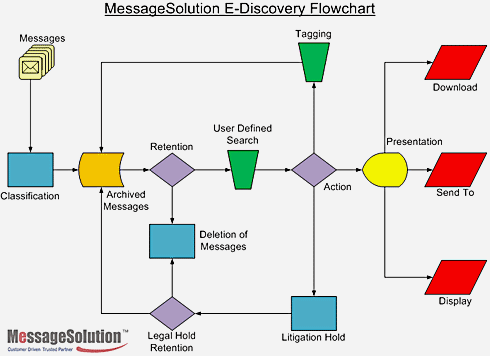 EEA E-Discovery processes voluminous amounts of documentation:
searching, retrieving, reviewing, refining, redirecting, printing, and reserving all emails, attachments and files. Data retrieval is no longer limited by geographic location - EEA E-Discovery conveniently allows employees at all enterprise branches to search and access the email archive online or offline.

EEA E-Discovery is a high performance litigation support system
that removes roadblocks for corporate legal counsels and compliance officers.
EEA E-Discovery Key Features
Comprehensive electronic data discovery policy settings.
Legal counsel can easily review search results from the email archive without IT assistance.
Easily downlaod, open or send archived data.
Search baskets allow you to save search results to view later or share.
The archive generates a list of users' top ten most popular search terms, which users can perform again by clicking a top ten search.
WORM technology (Write Once Read Many) preserves the integrity of original documents.
Streamlined collection folders refine email data to further analysis and distribution.
Pinpoint capture and retrieve email online or offline for live court presentation or deposition process.
Litigation Hold on all archived emails and documents throughout entire organization.

For more information about MessageSolution,
please contact our Sales Representative at 2556 2162, or email at
sales@ppn.com.hk
.
Copyright © 2021 Pacific Professional Network. All rights reserved.